Music and entertainment have been fundamental building blocks that have helped shape and define what the HomeSlice Group has grown into today. Since the company's inception, strong relationships with artists have been a key to building what is now a network that extends nationwide. With nearly two decades of experience in the entertainment industry, the HomeSlice Group has worked with hundreds of bands in a variety of different capacities. Through the years, the company has been in nearly every conceivable position in the live music touring industry however, artist management is where the HomeSlice Group's unique combination of skills and experience put them in a position to excel on an elite level.
HomeSlice Artist Management is proud to count amongst their clients a talented core of highly successful bands.
Call us at 1 (800) 689-7469 to book one of our artists.
Our Artists
CHANCEY WILLIAMS
Saddle bronc rider turned neo-traditional country music sensation, Chancey Williams has gone from competing on horseback to performing on center stage at major rodeos, festivals, and venues throughout the United States. The only artist besides Chris LeDoux to both ride and perform on stage at the world's largest outdoor rodeo, known as "The Daddy of 'Em All," Cheyenne Frontier Days, Williams is the next authentic cowboy of country music.
Growing up on a ranch in the Cowboy State, Chancey learned the cowboy-way-of-life from his father, and like his dad, found himself a successful bronc rider, qualifying for the National High School Rodeo Finals, twice at the College National Finals and winning two rounds at Cheyenne Frontier Days.
Chancey embodies the western lifestyle to such an extent that he's the first and only singer/songwriter to be endorsed by CINCH®. On an impressive roster of the world's top rodeo athletes, Williams' sits as the sole music-related endorsement deal.
Chancey Williams debuted his highly anticipated new album, 3RD STREET, at no. 5 on the iTunes Country Albums chart. Produced by country music hitmaker, Trent Willmon, the full-length album is sure to resonate with country music fans of all ages. Williams co-wrote eight of the album's tracks from the reminiscent throwback tune "College," to upbeat anthems like "The World Needs More Cowboys" and "Tonight We're Drinkin'" to raw, stripped-down ballads like "Let It Go." The magic of 3RD STREET really shines through on the band's brilliant remake of iconic Dan Seals & Marie Osmond duet "Meet me in Montana," featuring Brooke Latka.
---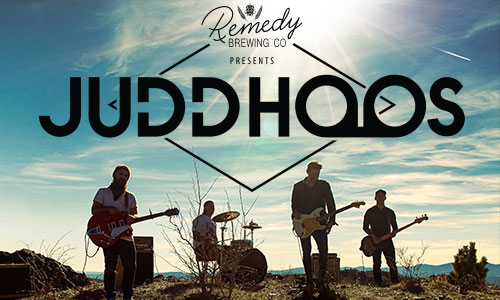 JUDD HOOS
2021 is full of optimism for Judd Hoos. The band will hit the ground running with the release of their latest EP NOT Alone (June 4) . The project was recorded in October of 2020 in Nashville, TN by producer J. Hall and Nickolas Blazina (Young The Giant, Delta Saints, Ric Todd). In early 2021, Judd Hoos inked a tour sponsorship with Remedy Brewing Company. The Remedy Tour features 100+ shows across 10 states. Judd Hoos even collaborated with the brewery to create their own signature beer Hoos Joos. The summer tour kicked off with the first ever Judd Hoos Charity Jam and include appearances with Buckcherry and headlining the Sturgis Motorcycle Rally.
---

Bryan Loweree
HomeSlice Artist Management Vice President, Shane Funk, announced this morning that the firm has signed former 32 Below frontman, Bryan Loweree, to its roster as he embarks on a solo country music career. Loweree is currently finishing up the summer tour with 32 Below and his last date with the band will be at The Windbreak in Fargo on September 14.
Loweree, a California and North Dakota native, has been performing in the upper Midwest for the last seven years, primarily with the well-known regional success, 32 Below. "I love that band and will always hold it high in my heart," he said, "but now is the time for me to really explore my soul as a singer – songwriter and forge my own path. The team at HomeSlice has my back. I find comfort in knowing they believe in what I have to offer. I couldn't be more thrilled to start my solo career with my friends at HomeSlice."
"I've been here eighteen years and I think I can count on one hand the number of artists we have pursued," Shane Funk commented, "We believe in super-serving a highly select number of clients. But when someone like Bryan Loweree decides he is going to launch a solo career, that makes you pay attention." Funk said this project has the luxury of focusing on original music. "It sounds funny, but often times in the day-to-day of this business, booking shows, playing shows, going to meetings, doing press, a person lets the music almost become the junior partner. That isn't going to be the case, here. Bryan has songs, is writing songs and will be writing with others. Loweree quickly agreed, "I'm going to record music I believe in and then take my guitar and go play it for anyone who will listen," he said. "I think I have something to say that people will relate to."
HomeSlice's Andy Young, himself the lead guitarist for Judd Hoos, will play a major role in working with Bryan. "The guy has a presence about him and demands a crowd. He's the life of any party, on or off the stage," said Young, "but it will be his talent and drive that sets him apart. We're really looking forward to this."
The 33-year-old Loweree started his musical career playing drums at the age of 10. Since then he has performed in bars, amphitheaters, stadiums and has charted original music on iTunes. Along the way he was also the kicker at Jamestown College and has recently become a pilot. "Knowing I have the 100% support of my wife, Brittney, gave me the courage to fly airplanes and chase my dreams in every way. I owe everything to her." Loweree said.
---
Denham
Sioux Falls based artist that can mix with bands, hip-hop, and the singer-song writer scense.
---
Brandon Jones
Brandon Jones is a Rapid City SD based Country recording artist.