The Longtime HomeSlice executive will continue in his role as Director of Sales, company-wide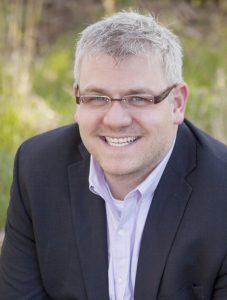 (Rapid City, SD) – HomeSlice Corporation announced this morning that it is reorganizing the structure of its subsidiary, HomeSlice Media Group, LLC. The Broadcast division of the company will be renamed, "HomeSlice Audio," according to HomeSlice Media Senior Vice President, MaryAnne Whittle. Other divisions include its digital media business, Rapid Digital Solutions, HomeSlice Agency and HomeSlice Concerts & Live Events.
Veteran HomeSlice executive Brad "Murdoc" Jurgensen has been named Vice President of HomeSlice Audio, effective immediately. In this role, Jurgensen will oversee all audio platforms for the business including its six (6) radio stations. The newly-formed division will also create podcasts and manage the podcast content of others, develop streaming products as well as provide audio/video services to both the Agency and Rapid Digital Solutions, among other initiatives.
"It's an exciting time to be in the audio space," commented Jurgensen. "Not only do 92% of Americans listen to broadcast radio each week, the audio pie is actually getting larger too. People aren't simply deciding between, say, listening to a Podcast or Spotify or KAT Country, they are spending more time with audio, overall, and connecting and relating to all of them. "
Dean Kinney, HomeSlice CEO, said Jurgensen is the right person at the right time, "Murdoc and I see the business today, and the future of the business, very similarly. We both know that all media is changing rapidly and the successful companies won't just adapt, they will be pioneers in the evolution." Kinney was quick to add that Jurgensen will not be without help, "Doc has been very successful overseeing our revenue streams and will remain in that role, too, so on the programming side, we have some exciting things we are working on that will allow us to build out the right management team for HomeSlice Audio. We'll have more to say about that soon."
Indeed, Whittle reiterated, several additional announcements are expected from the company in the coming weeks. "We have a solid plan and look forward to rolling it out. But I decided to put first things first; we have great confidence in Murdoc to be our creative visionary for HomeSlice Audio and didn't want to waste a moment getting on with that part of our strategy," she concluded.
-30 –
About HomeSlice:
The HomeSlice Group is a media and entertainment conglomerate of small businesses, based primarily in the Black Hills. These include HomeSlice Media, HomeSlice Artist Management, HomeSlice Creative, Rapid Digital Solutions, and The Loud American Roadhouse, among others. The firm owns and operates six radio stations in the Rapid City area, as well as a full service ad agency and the premier digital marketing agency in the region, Rapid Digital Solutions. HomeSlice was formed in Sturgis, SD in 1994 with its roots in the concert business and now produces or provides talent for more than 500 live events per year. The HomeSlice family of companies employs about 100 full and part-time people year round, and nearly 250 people at peak summer season.