(Sturgis, SD) – HomeSlice Management, a subsidiary of HomeSlice Corporation and owner of the Loud American Roadhouse in downtown Sturgis, announced today that all indoor concerts at Loud American have been canceled for the 80th Annual Sturgis Motorcycle Rally. The entertainment firm also confirmed it plans to move forward with its outdoor concerts directly adjacent to the indoor venue.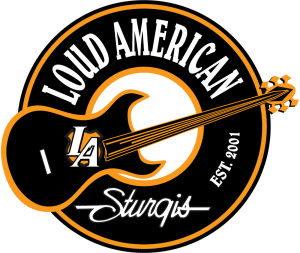 "We waited as long as we could to come to a final decision," explained HomeSlice President/CEO Dean Kinney. "The available evidence, while evolving, indicates to us that outdoor events appear to be safer than those conducted indoors. We are thankful to be moving forward outdoors. We're disappointed that we won't be doing shows indoors, especially for the artists and their crew teams that have already suffered so extensively during this pandemic. But, we are confident this is the right answer for us at Sturgis 2020."
Foregoing indoor concerts is just one of many steps that the Loud American management team is taking for the Rally this year. "We will have reduced capacity, table spacing, hand sanitation stations throughout the campus and masks available for anyone who wants one," said Kinney, who also added that the Loud American has been operating under these measures since reopening on May 14 after voluntarily closing its indoor spaces for more than 6-weeks.
"We also want to thank the City of Sturgis for its continued guidance throughout the crisis," Kinney continued. "They recognized that tens of thousands of tourists would be in the area regardless of its Rally decision and that has been borne out by a super strong tourism season to-date. We particularly want to applaud the foresight involved in the mass testing planned for shortly after the Rally," Kinney concluded.
The Loud American operates 7-days a week on the famous Main Street in downtown Sturgis and is celebrating its 20th Rally. HomeSlice Concerts plans to release its outdoor Rally concert schedule for the Loud American Pavilion later this week.
MEDIA ONLY:  For more information contact Taryn.Edlund@theHomeSliceGroup.com